First Aid Cabinet Services
Proper safety protocols are vital to companies of all sizes as emergencies and illnesses occur every day. Ensure your workplace has a plan in place and that first aid supplies are available on demand. Safety First Supply Company and Safety First Aid offer a Vendor Managed Inventory system to companies in the Tulsa Metropolitan area. Never worry about not having Safety, First Aid or Facility Maintenance supplies in stock, as emergencies are never planned. With the Vendor Managed Inventory system, we monitor and stock your supply inventory levels and check for expired and cross contaminated First Aid items.
Alongside managing product inventory, our knowledgeable staff can help you meet your current industry compliance requirements.
Call us to set up an appointment. One of our friendly team members will help you design a custom plan to help you stay compliant and eliminate supply shortages.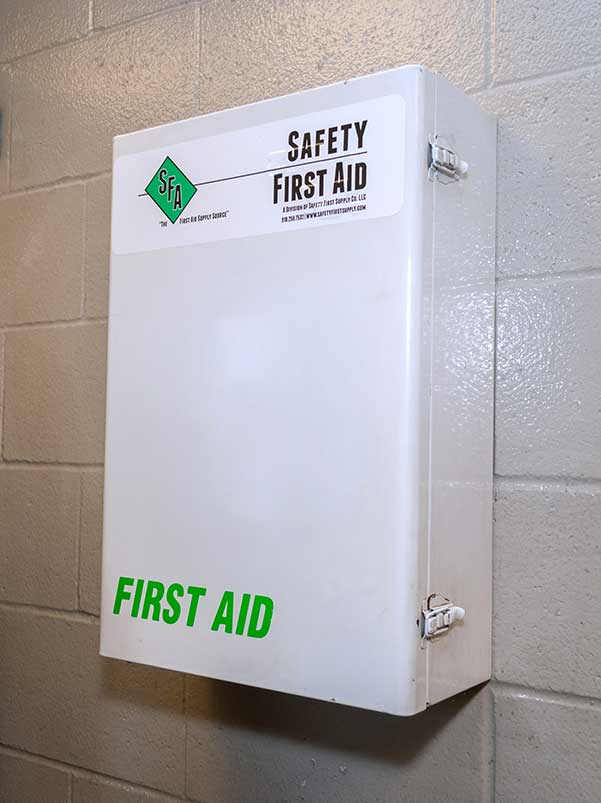 Let a locally owned and family operated safety supply company help your workplace develop a safety plan.
Non-commission sales staff are price conscious and can assist with product selection.
Additional safety and facility maintenance supplies can be added to your inventory to help consolidate vendors, save time and lower costs.
The base service includes a monthly visit that is customizable to fit your needs.
Dependable van delivery service.
Let us help you create a quick response to first aid emergencies. It could even save a life.